120 E. Kansas 620-886-5686

School/Sports News - March 23, 2015
---
Library news
DID YOU KNOW? The Lincoln Library has a very nice Children's Room. Books for all young children, videos, and books on tape. There is plenty of room to roam around and find just the right book. There is a table to play puzzles. Story Hour each Tuesday morning for Pre-school children. Come in and check us out.
There was no Story Hour the week of March 17 due to Spring Break. Even the Story Lady gets a vacation. Story Hour will continue on March 24 at 10:00 A.M.
NEW VIDEOS: The Hunger Games: Mockingjay Part 1 and Downton Abbey Season 5.
NEW BOOKS:
THE NIGHTINGALE by Kristin Hannah: The novel tells the stories of two sisters, separated by years and experience, by ideals, passion, and circumstance, each embarking on her own dangerous path toward survival, love, and freedom in German-occupied, war-torn France. A heartbreakingly beautiful novel that celebrates the resilience of the human spirit and the durability of women.
TRUST NO ONE by Jayne Ann Krentz: Working for a guru of positive thinking couldn't be a better experience for Grace Elland. Used to bouncing from job to job, she's finally found stability and success with the Witherspoon Way. Her marketing and social media skills have made Sprague Witherspoon the top motivational speaker in the Pacific Northwest. Then Grace finds Sprague murdered.
THE JOB by Janet Evanovich: The FBI had one demand when they secretly teamed up Special Agent Kate O'Hare with charming con man Nicolas Fox-bring down the world's most-wanted and untouchable felons. This time it's the brutal leader of a global drug-smuggling empire. The FRBI doesn't know what their target looks like, where he is, or how to find him, but Nick Fox has a few tricks up his sleeve to roust this particular Knipschidt chocolate-loving drug lord.
THE BURNING ROOM by Michael Connelly: Detective Harry Bosch an his Rookie partner investigate a cold case that gets very hot...very fast. In the LAPD's Open-Unsolved Unit, not many murder victims die a decade after the crime. So when a man succumbs to complications from being hit by a stray bullet ten years earlier, Bosch catches a case in which the body is still fresh but any other clues are virtually nonexistent.

LIBRARY HOURS
10:00 – 7:00 Monday and Thursday
10:00 – 5:30 Tuesday, Wednesday, Friday
10:00 – 4:00 Saturday
STORY HOUR EACH TUESDAY MORNING AT 10:00 A.M.

Premiere Inside
School
Sports
Record
Local
Deaths
Opinion
KWIBS
Classifieds
Business Dir.
Subscribe
Ad Information
Staff
Contact Us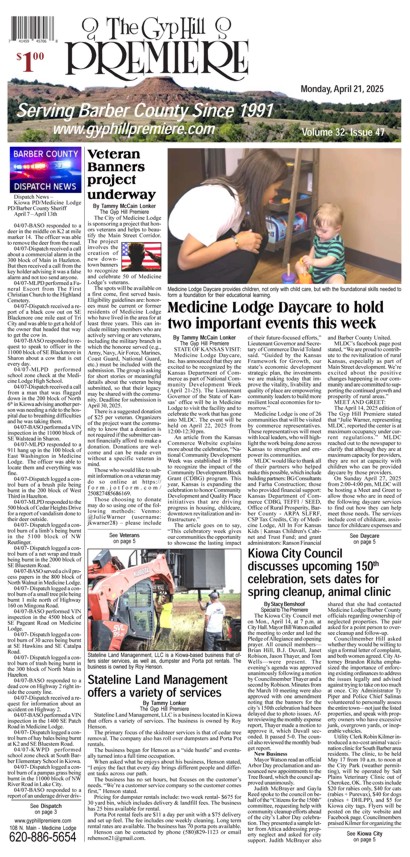 Warp Your Favorite Local Person. A Different Victim Each Week!!
For all School news subscribe to The Gyp Hill Premiere