120 E. Kansas 620-886-5686

School/Sports News - April 21, 2014
---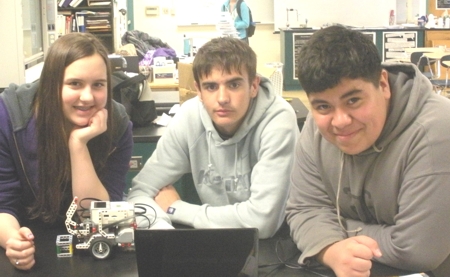 Courtesy Photo
Anne Hageman, Dakota Winter, and Ruben Arredondo demonstrate their partially assembled robot. These students are sophomores at Medicine Lodge Junior-Senior High School.
MLHS Science and Technology Club Awarded Robotics Grant
The South Central Community Foundation Youth Making a Difference (SCCF YMAD) program has awarded a $1000 grant to the Medicine Lodge Senior High School Science and Technology club to purchase Lego Robotics kits and NI LabVIEW Software. Amy Hageman, the physics and chemistry teacher at Medicine Lodge High School, applied for and was awarded the grant in the fall of 2013. The Lego Robotics kits are now ready to use at the high school, and science and technology club members are quickly learning how to build and program robots.
Hageman stated in her grant application that she "hopes to create interest in science and engineering by establishing a Robotics and Computer programming activity for the MLHS Science and Technology Club." The Kansas State Department of Education has recently adopted the Next Generation Science Standards. The goal of the new standards is to ensure everyone is scientifically literate and to prepare students for technical and scientific careers. These standards require an emphasis on engineering design as well as science practices. Students need exposure to science and engineering, and hands-on opportunities are sometimes limited in rural areas.
The purchase of two robotics kits and the NI LabVIEW software has the potential to directly impact all students in the MLHS Science and Technology Club, which currently has 31 members. and is open to all MLHS students. Additionally, all high school and junior high science and technology teachers will be able to use the robotics kits for classroom projects.
Future projects with these materials might include demonstrations and hands-on activities for elementary students. Ms. Hageman is excited about the robotics materials, stating "In the future, I hope to generate enough student interest and experience to be able to participate in robotics competitions."