120 E. Kansas 620-886-5686

School/Sports News - October 20, 2014
---
Lincoln Library news


DID YOU KNOW? The Lincoln Library Book Club will have their last meeting of the year on October 23 at 7:00 P.M. The book for discussion will be The Maltese Falcon by Dashiell Hammett. The Book Club will reconvene January 22, 2015.
STORY HOUR: Lena Young was the story lady for October 14 using the theme of the Kansas Bird, the Meadowlark. Robin Leonard read One Day At The Seaside. Lena read: Little Bird, There Is A Bird On Your Head. The boys and girls read and talked about the Kansas State Bird, the Meadowlark. Craft: Colored a picture of the Meadowlark bird and cut it out and glued it on a nest made of Oak tree acorns with gumdrops for eggs. The boys and girls enjoyed the sound book of Anthology of Birds as they listened to the bird sounds.
NEW BOOKS
BURN by James Patterson and Michael Ledwidge: At last, Detective Michael Bennett and his family are coming home to New York City. Thanks to Bennett, the ruthless crime lord whose vengeful mission forced the Bennett family into hiding has been brought down for good. Bennett is drawn into an underground criminal world of terrifying depravity.
THE LOST KEY by Catherine Coulter: In his first hour on the job in the New York field office, freshly minted FBI agent Nicholas Drummond and his partner, Mike Caine, are called to investigate a stabbing on Wall Street. John Pearce's cryptic dying words—"The key is in the lock"—sets into motion and eleventh-hour race to solve the riddle.
SOME LUCK by Jane Smiley: This novel takes us through cycles of births and deaths, passions and betrayals, among characters we come to know inside and out. This is the first part of a dazzling epic trilogy—a literary adventure that will span a century in America.
PARIS MATCH by Stuart Woods: When some business arrangements demand his personal attention, Stone Barrington jaunts off to Europe and immediately finds himself embroiled in trouble on both sides of the pond. From the bright lights of Paris to the staid paneled boardrooms of Capitol Hill, at risk is not just Stone's reputation, but his very life.
LINCON LIBRARY HOURS
10:00 - 7:00 Monday and Thursday
10:00 - 5:30 Tuesday, Wednesday, Friday
10:00 - 4:00 Saturday
STORY HOUR EACH TUESDAY MORNING AT 10:00 A.M.
Premiere Inside
School
Sports
Record
Local
Deaths
Opinion
KWIBS
Classifieds
Business Dir.
Subscribe
Ad Information
Staff
Contact Us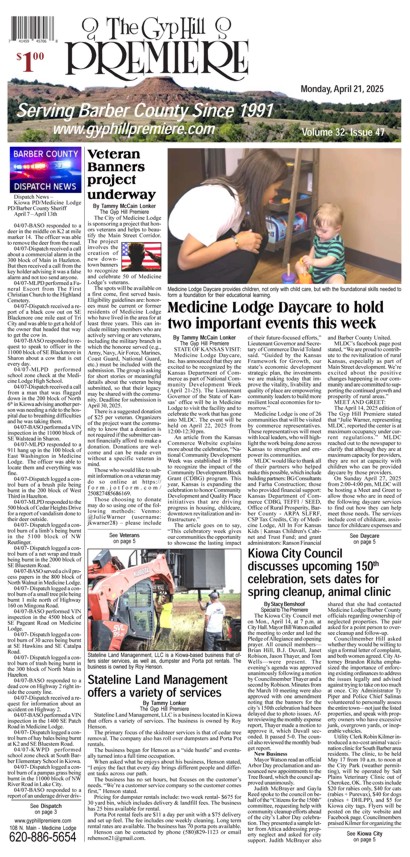 Warp Your Favorite Local Person. A Different Victim Each Week!!
For all School news subscribe to The Gyp Hill Premiere