120 E. Kansas 620-886-5686

School / Sports News - February 20, 2017
---
Click Here for complete school news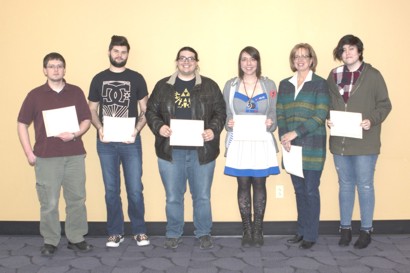 Students Receive Certificates in Cyber Security and IT. Aidan Clouse is second from the left.
Butler Community Collegeís IT Program Recognizes Students
EL DORADO, Kan. (Feb. 13, 2017) Ė Students from Butler Community Collegeís IT program received certificates of completion at the bi-annual ceremony given in their honor. Last week, 13 students were given certificates in the departments of Software Development, Cyber Security, Internetworking Technologies, and Interactive 3D Technologies. These students received certificates of participation indicating completion of their courses.
"Iím working on projects in the field," said Jacob Valek, 25, a graduate of Goddard High School. "Itís been great. Iíve seen this program grow drastically."
Valek attended the program part time for five years. He eventually wants to do character animation. Ann Ridgway, 21, a graduate of Heights High School also received a certificate. She attended the program full-time and would like to go into 3D drawing and imaging.
"The teachers really talk to you one on one," said Ridgway of Kechi.
Duane Dunn, the associate dean and director of academic and professional programs at Kansas State University, Global Campus was the keynote speaker at the ceremony.
"I want to encourage you not to stop taking classes," Dunn told the students. "It takes commitment, perseverance and a great deal of interest. What just a few years ago seemed was an impossibility is today standard practice."
The department chair of Interactive, Digital, and 3D Technologies is Darryl N. Runyan and the department chair of Cyber Security and Networking Management is Brett Eisenman. Both of these professors and their staff have worked hard to help the students learn the newest technologies.
The Interactive, Digital, and 3D Technology Program, along with the Cyber Security and Networking Management Program offers associate level and certificate level tracks. Included in these programs are Interactive 3D Technology, Digital Media, Digital Production, Web Development, Networking Technologies, Cyber Security, Windows Management, Software Development and Database Management.
From Medicine Lodge: Aidan Clouse-Interactive & 3D Technologies-Game Designer